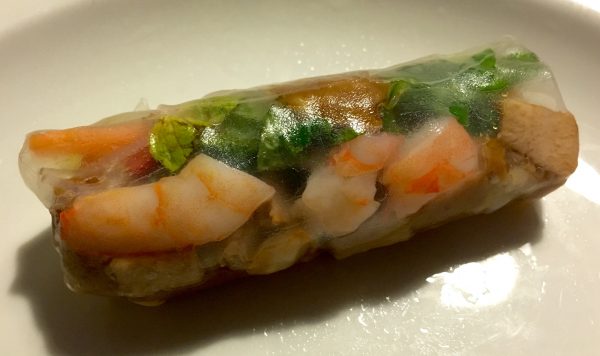 I first saw these spring rolls demonstrated on Ken Hom's Travels With A Hot Wok. No need particularly to have a hot wok though as most of the "cooking" required in making Goi Cuon – Vietnamese Spring Rolls is assembly work. That means you can prepare all the ingredients ahead of time, ready for you to put together the rolls themselves at the last minute – or (as we did) make a party of it and allow your guests to roll their own.
What I love about this version of the spring roll is its lightness and freshness. I'm a sucker for any type of dumpling or dim sum and am an absolute sucker for deep frying. As a chef friend once told me every food can be improved either by deep frying or adding a dollop of cream. Sometimes both.
However, other than cooking the pork and the peanut sauce for the filling, Goi Cuon require no cooking. The rice wrappers (banh trang) need only a brief soak – 20 to 30 seconds – in luke warm water before they're pliable enough to work with. Don't soak too long, and don't make the water too hot otherwise you might face a disintegration disaster.
Once softened you can start to roll – just be careful not to overfill as it can cause tearing. I place all the ingredients in a rectangle in the centre of the wrapper then fold both sides over the filling to enclose the ends. Then I flip the front of the wrapper over to cover the filling and roll the whole parcel back towards me. The rice wrapper should stick easily so you have a nice firm parcel. At this stage you can either eat straight away or place on a lightly oiled  plate (so it doesn't stick) for later.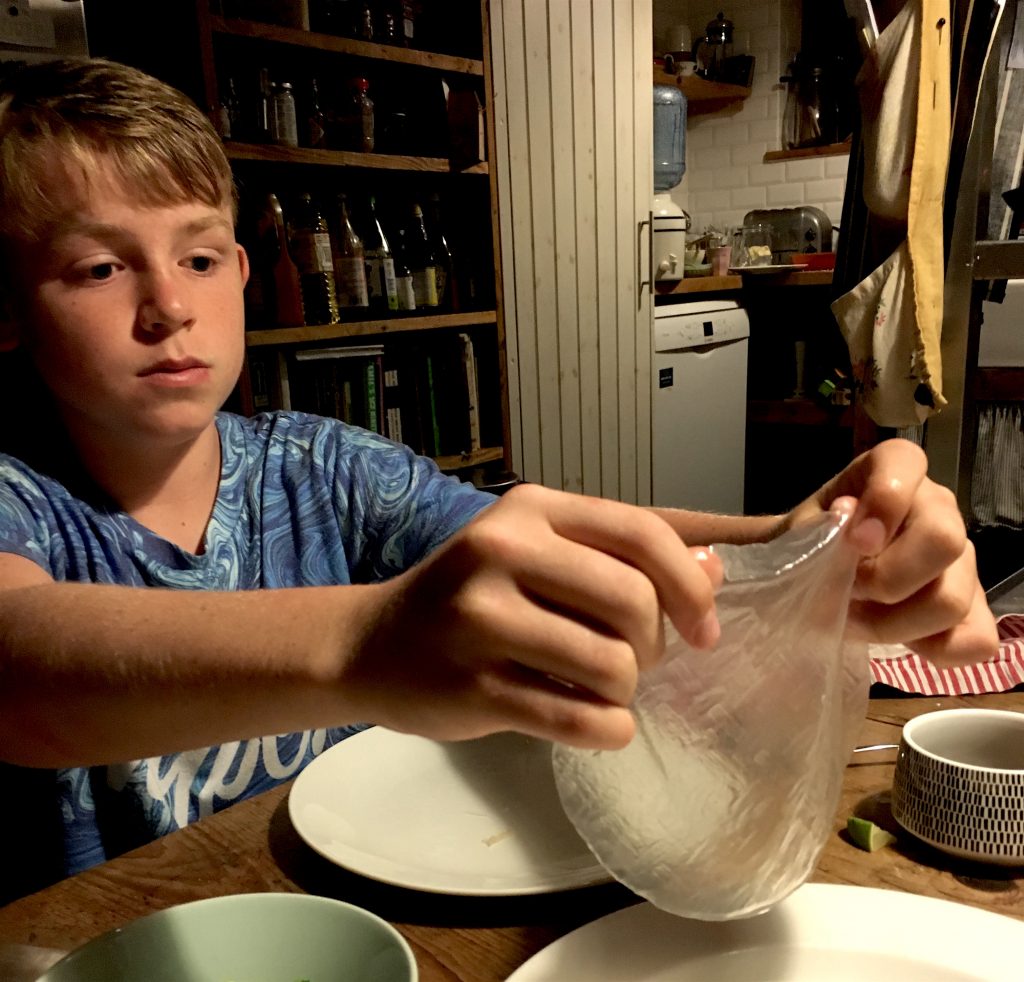 Make your own banh trang – rice paper wrappers
Life is probably too short to make your own rice papers wrappers but inevitably I will try it sooner or later and just as inevitably someone as nerdy and indefatigable as I am with these things will want to know how. So here's the best recipe I found for making your own rice paper wrappers at home for your own Goi Cuon. And here's how they're made in Vietnam.
Preserved Turnip – The Secret Ingredient
Our other variation was in using preserved turnip. Again, this is a Thai ingredient that is actually a sweet pickled daikon radish – an essential ingredient in authentic Phad Thai. In Thailand this preserved radish is called hua chai po and is available in a sweet and salty version. You can buy this at SousChef.co.uk or in most Asian supermarkets.
There are many versions of preserved daikon across Asia including Korean moomallaengyi but very likely this originated in China where it is known as luo bo gan.
Originally the whole radish is cleaned, salted then left to dry in the sun before being packed into sealed jars that are left to cure for several months. These days they are more likely to be dehydrated mechanically.
This is not the same as Korea's danmuji/Japan's takuan which is a pickled daikon which is wetter. If you're interested in that you can find the recipe for danmuji here from the amazing Maangchi who is probably the best TV chef ever.
Inauthentic But Awesome Dipping Sauce
One note on this recipe. My son Louie who was my helper for the evening dropped the jar of Hoi Sin on the floor – this is the traditional main ingredient for the dipping sauce. I had to improvise slightly and made what really amounts to a Thai style peanut sauce which was quite thick. We found it easier to put this inside the Goi Cuon spring rolls rather than dip – totally delicious but perhaps not 100% authentic.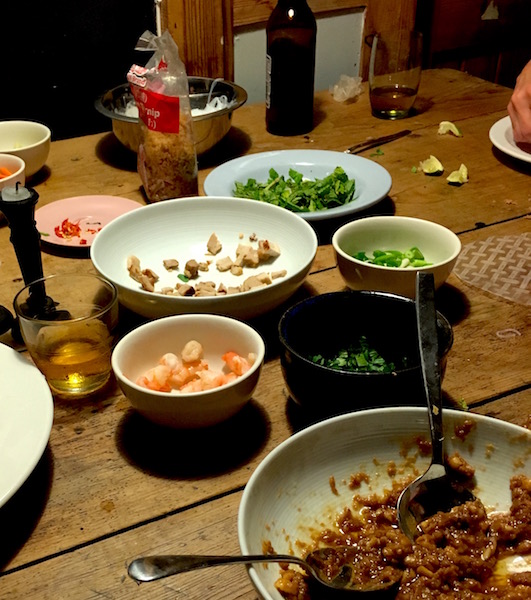 Goi Cuon – Vietnamese Spring Rolls for 4 people
Ingredients  
200g cooked prawns
300g pork loin steaks
1 small head of lettuce – cos, little gem are both good
1 large carrot julienned
Handful of mint leaves
4 spring onions, chopped diagonally "ears"
1 pack rice paper (banh trang)
1 pack rice vermicelli
Preserved daikon (optional)
Bird's eye chillies (optional)
Dipping sauce
2 tablespoons oil
2 tablespoons chopped garlic
3 – 4 tablespoons peanut butter
100g finely crushed roasted salted peanuts
3 tablespoons tamarind
3 tablespoons fish sauce
1 cup water
The method for this is very simple.
Cook the pork – I pan fried two pork loin steaks in a little oil until slightly browned around the edges then chopped into small cubes.
If you're using raw prawns – cook them and deshell. Chop into bite sized chunks.
Shred the lettuce and the mint roughly. Julienne the carrot and chop the spring onions.
The rice vermicelli usually takes 3 – 4 minutes to soften in just boiled water – check the instructions on the packet. Chop into 2 – 3 inch lengths.
For the sauce, fry the garlic in a little olive oil then add all the other ingredients. Adjust the proportions of fish sauce and tamarind. If you're not cooking for children who find the barest hint of spice anathema then you can add a pinch or two of roasted chilli powder.
Then either roll them yourself for serving later or make your guests do it themselves and witness the wondrous creations they attempt. Lots of fun!