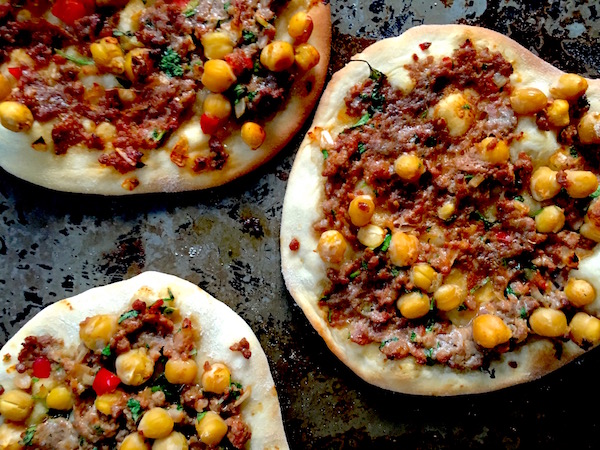 When is a pizza not a pizza? When it's a lahmacun. Dead easy to make, they're a great alternative to pizza night and could be one of the greatest late night after pub snacks in existence. Anything that literally means "meat with dough" has got to be good right?
A popular streetfood in Armenia, Lebanon, Syria and especially Turkey, Lahmacun can be topped with virtually anything – except cheese, although I daresay a bit of feta might add a certain frisson.
Commonly they feature minced beef or lamb, tomatoes and onions, fresh herbs – usually parsley – and spices. You could also add nuts, tahini, spring onions, pickles and more chilli if you're keen on the hot stuff, and let's face it, you are aren't you?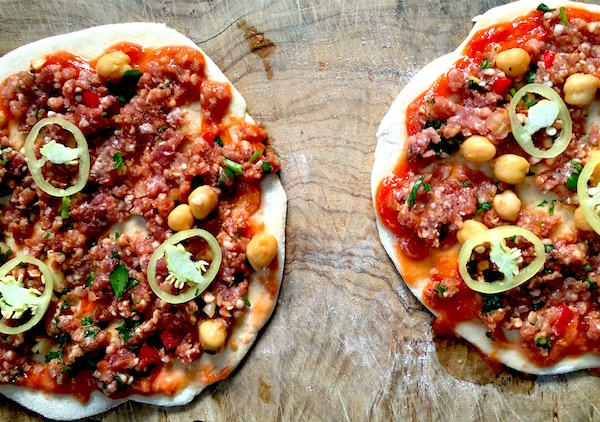 Ingredients:
For the base:
500g strong bread flour
7g sachet fast-acting yeast
½ tsp sugar
2 tsp salt
275ml lukewarm water
50ml olive oil plus extra for greasing
For the topping:
1 red pepper, deseeded and chopped
1 green chilli, chopped
1 medium onion chopped
2 cloves garlic chopped
500g minced lamb
large handful flat leaf parsley
2 tsp chilli flakes
1 tbsp tomato puree
1 tin of chickpeas, drained
Lemon to serve.
Method:
Sift the flour into a large bowl and add the yeast, sugar and salt. Make a well in the centre and add the water and olive oil. Bring together into a rough dough.
Flour your work surface or use a food processor with a dough hook and knead for around 8 – 10 minutes. The dough should be soft and stretchy but not sticky.
Put the dough in a lightly oiled bowl, cover with cling film and leave to rise until it's doubled in size – around 30 mins to an hour.
Heat your oven to 230˚ Put your baking sheet or pizza stone – whatever you're using – in the oven to heat through.
While the dough is rising, make the topping. Put the red pepper, chilli, onion and garlic into a food processor or if you like to do everything in the most painful, manual way like I do, then use a pestle and mortar (it is actually better for flavour). Make sure everything is finely chopped/pummelled but not a puree – it should have some texture.
Drain any excess liquid and add to the minced lamb, along with the parsley, tomato puree and chickpeas. Season and mix everything well.
When the dough is ready, divide into 12 balls. Roll each one to a flat oval shape around ½ cm thick then top with the mixture, spreading it right to the edges.
Bake for 7 – 8 minutes until the top is cooked thoroughly and the base light brown. Serve with lemon wedges, and a little yoghurt and extra parsley if you like.