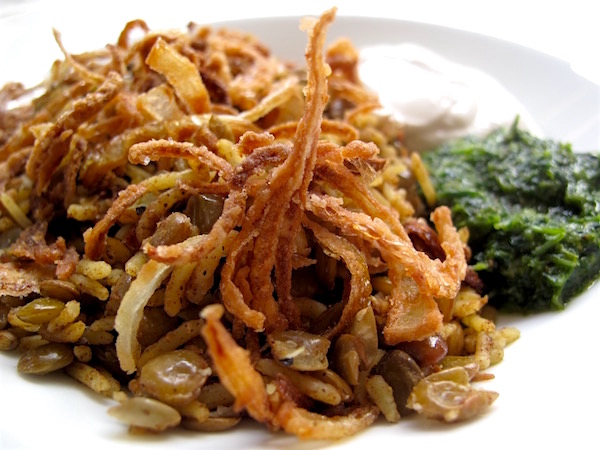 When I first read the recipe for this I thought – well, just how tasty can a dish of rice and lentils be? I had to take it all back once I tried it. Deliciously savoury, with the smack of crisp fried onions and a background of warm spice, it's unbelievably moreish – especially combined with the classic chilli sauce, Zhoug and a garlicky yoghurt sauce.
Mejadra or Mujadara is found across the Arab world. This one is inspired by the Israeli chef Yotam Ottolenghi. The name of the dish is taken from the Arabic word for "pockmarked" – think of the lentils as "spots" in the rice. It's a dish that has ancient roots – the first recipe was written down in the Kitab al-Tabikh (Book of Dishes), a cookbook written in the 11th Century in Baghdad.
The essence of Mejadra is steamed rice and lentils garnished with fried onions, with variations on the dried spices and fresh herbs used including mint, coriander, cumin, cloves and fenugreek. You can eat it on its own or as a side dish.
Ingredients
500g green lentils
8 medium onions
6 tbsp flour
300ml sunflower oil
1 tbsp cumin seeds
3 tbsp coriander seeds
400g basmati rice
4 tbsp olive oil
1 tsp turmeric
3 tsp ground allspice
3 tsp ground cinnamon
2 tsp sugar
700ml water
Method:
Put the lentils in a saucepan and cover with water. Bring to the boil and cook for 15 minutes or until the lentils are a slightly softened but not quite cooked enough to eat yet. They need further cooking later on so if they're too soft now they will be overdone in the finished dish.
Slice the onions finely, put in a large bowl and mix in the flour and around 2 tsp of salt.
Heat the sunflower oil in a saucepan or a wok. The oil is hot enough when a piece of onion hits the oil with a sizzle and cooks through in 3 – 4 minutes.
Cook the onions in batches (around 4 batches in total) until they are golden brown and crisp – see the picture below. It should take around 5 – 10 minutes per batch and you need to watch the heat so they don't cook too quickly and burn.
Keep a careful eye on those onions – too far gone and they will be bitter in the final dish. Use a slotted spoon or one of those fancy fryer spoons to remove then onions and drain on kitchen paper. Once they're all done you can season with a little more salt – this dish can take a good helping of salt.
While you're frying the onions you can start the rice. Toast the cumin and coriander in a saucepan until you can smell the fragrance of the spices fairly strongly. Add the oil, the rice, all the other spices and a little sugar then season. Coat the rice in the olive oil and add the part cooked lentils.
Finally add the water, stir, bring to the boil and cover. Set the timer for 15 minutes and cook on the lowest heat on your hob.
When your timer goes off take the saucepan off the heat, take the lid off and quickly cover with a tea towel before replacing the lid. Leave for 10 minutes to rest. Resist the urge to stir.
After you've waited patiently you can at last lift the lid and stir in half the onions (if you're serving the whole thing immediately – otherwise read below).
Serve in small bowls topped with handfuls of fried onion, zhoug and yoghurt sauce.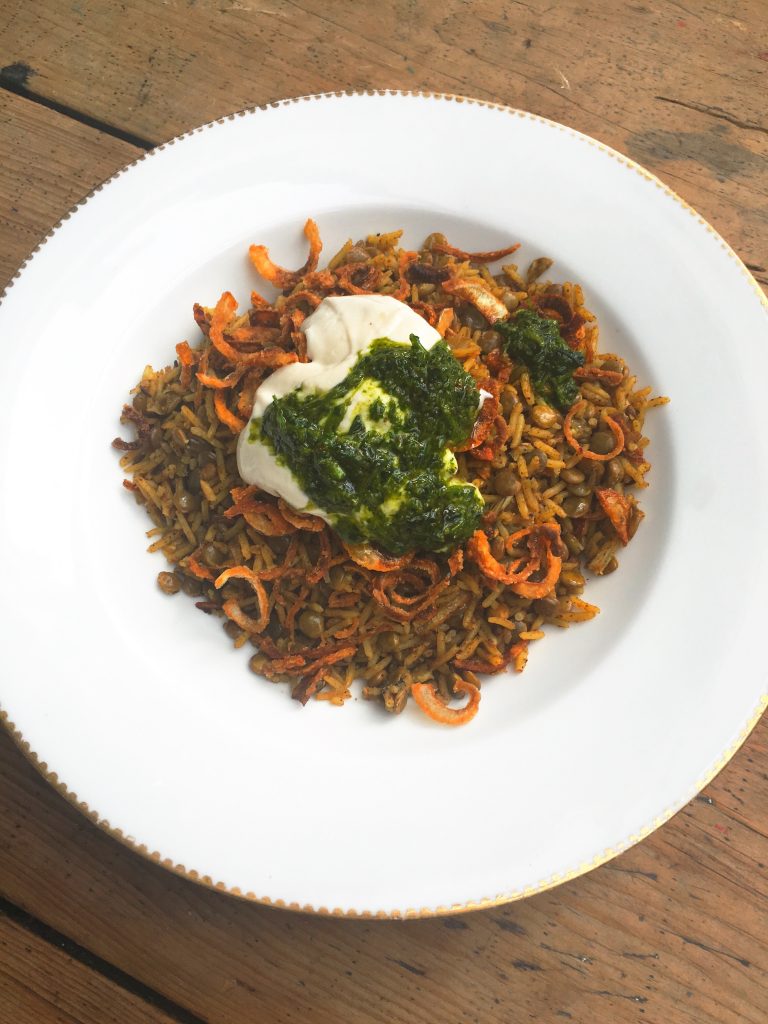 This version serves around 10 – 14 people – we love it in our house and it makes a great packed lunch. It also freezes really well so I always make a huge batch and reserve half for later. You can also keep the onions crispy for some time in a plastic airtight container or a kilner jar.
Yoghurt Sauce
Ingredients
250g greek yoghurt
50g tahini paste
1 clove of garlic, crushed to a paste
Juice of 1 large lemon
salt and pepper
2 tbsp water
Method is easy: just whisk everything together. Adjust the level of lemon and seasoning to taste. If you like it thick add less water, if you like it runny add more.
Sahawiq/Shug Yarok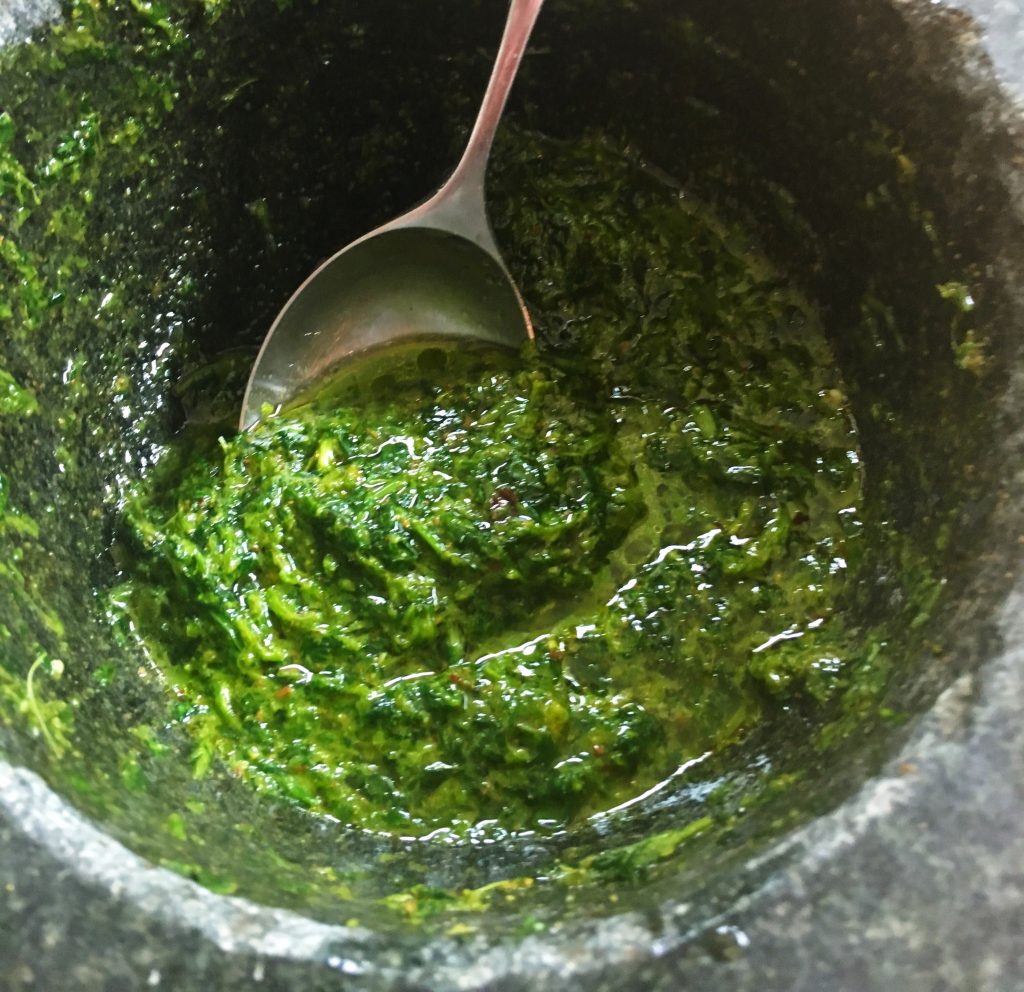 Brought to Israel from Yemen and believed to have medicinal properties this is an amazing fragrant and fresh chilli sauce. Similar in aromatic punch to a Thai green curry paste, it's excellent with falafels, flatbread type dishes and kebabs.
10 green cardamom pods, outer husks removed
10 cloves
½ tsp caraway
½ tsp black peppercorns
½ tsp ground cumin
2 hot green chillies, stalks removed
½ tsp salt
2 cloves of garlic
50g fresh coriander with stalks
15g fresh fenugreek (if you can find it) or flat leaf parsley
2 tbsp olive oil
2 tbsp water
Using a pestle and mortar I start with the hardest, driest ingredients first. Crush the cardamom, cloves, black pepper and caraway to a powder, add the cumin, garlic, salt and chillies and smash to a paste. Roughly chop the herbs, stalks and all, and pound in the pestle to a rough paste. Don't make it too pureed – you want some texture there. Finally loosen the whole mixture with oil and water until you have a spoonable sauce-like consistency.