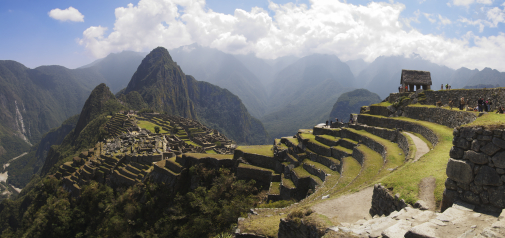 Ponchos, Pan-pipes and Paddington; that's Peru in a nutshell, isn't it? Well, not quite, although, to be fair, it's not one of those countries you instantly associate with food. Japan = Sushi, India = curry, Italy = pasta; most countries have a strong identity with a particular dish and, over the years, each one's had its turn in the restaurant spotlight. But what about Peru? Rumour has it that Peruvian food is destined to be the Next Big Thing – so, what are we letting ourselves in for?
Remember in the late '90's when everyone discovered fusion food? Suddenly, laksas were popping up all over the place and countries that had never seen eye to eye were united in recipes and menus across the UK. However, the Peruvians had the fusion thing going down long before Pacific Rim and Tex-Mex cooking came into vogue. Long before.
Essential Ingredients Of Peruvian Food
The base notes of Peruvian food belong to the Incas. Root vegetables, corn, chocolate and, of course, the ubiquitous chilli, are still integral parts of many Peruvian dishes. However, before you start thinking that this is Mexican food under a different sombrero, it's important to remember that modern Peruvian cooking has been shaped by centuries of immigration; the Spanish, African, Chinese, Japanese, Italian and French have all added their own flavours to the mix, resulting in something that is as multi-layered as it is multi-cultured; this is fusion cooking without having to throw incongruous ingredients at each other.
Ceviche
If Peru had a national dish, one that identifies it immediately as Peruvian, it would probably be ceviche. However, even this has its roots elsewhere; ceviche owes its inspiration to the Japanese who migrated to the region. In essence, ceviche is a sashimi-style dish in which the citric acid in limes is used to 'cook' raw fish. Typically, there are other ingredients in there, such as red onion and the Peruvian aji chilli-pepper. Ceviche is a lunchtime dish, served cold, and is both sweet and sharp; the tangy juice of the limes offset by the onion and the fish. You might find it served with accompaniments, such as slices of sweet potato or chocio, a particular species of corn, with penny-sized kernels.
New Wave Of Peruvian Restaurants
However, if this all sounds a bit too rustic, think again. Peru's answer to Gordon Ramsay, Gastόn Acurio, trained at Le Cordon Bleu, in Paris, before returning to his homeland and launching his own company, which boasts 40 restaurants in 12 different countries. On top of that, he runs the Pachacutec cooking school; a school he founded to teach Peruvians apply modern methods to traditional meals. In 2011, his restaurant, Astrid Y Gaston, was voted among the top 50 in the world.
Putting the shoe on the other foot, there are a number of top-notch restaurants that have drawn on Peruvian influences to add a little zing to their menus; Nobu, the Japanese restaurant, part-owned by Robert De Niro, cheerfully admits to drawing on Peruvian cuisine to create something outside the bento box. Nobu himself spent his formative years as a chef in Lima and has drawn influence from Peruvian food to create dishes such as Tea-Smoked Lamb, Spicy Salmon Skewers and its own version of that South American classic, Tomato Rock Shrimp Ceviche.
So, Peruvian cooking has found its way into other restaurants, but what about Peruvian restaurants in the UK? If all this talk of lime and chillies has got your taste-buds tingling, then you'd better head off to Lima. Lima in London. Lima is the creation of world-renowned Peruvian chef, Virgilio Martinez. While many of the ingredients are sourced from the UK, an equal number are shipped in from Peru; a stunning testament to the region's biodiversity. Dishes, including Beef Pachamanca, Asparagus Peru and Salmon Tiradito, feature ingredients such as the Huacatay herb, Sacha Inchi oil and blue potatoes. And, stepping away from the rustic image we probably all have, they are presented in a clean and contemporary style; gourmet food with a punch.
'Going out for a Peruvian' might not be a phrase we're familiar with at the moment but, if the rumours in culinary circles are to be believed, then it's one that will soon be bandied around by those in the know. Peru's got everything a chef could wish for: a plentiful supply of fish, free-range livestock, the fertile soil of the Amazon rainforests and a range of vegetables and spices that will withstand even the most extreme climates. This diversity of resources is reflected in the flavours of the produce; there are over 3800 types of Peruvian potato, 300 species of chilli and an abundance of herbs that are practically unknown in the UK. Peruvian food really is an Indiana Jones-style adventure for your palate – just leave your whip at home.
Peruvian restaurants, menus and dishes are gaining ground on British soil and, within the next year, you'll see the usual plethora of cookbooks hitting the shelves. But, if you like to surf the crest of a wave before it breaks, then check out the restaurants in your area. You might, however, as a certain bear from the darkest part of the region did, want to keep it under your hat. Next to the marmalade sandwiches.
Read our post on Peruvian Food.