We managed to bag ourselves an interview with the effervescent Duncan McEwen – who just so happens to be the Executive Chef for the UK Belgo restaurants. But rather than the usual waffle about mussels and chocolate, we wanted to find out a bit about the daily and unusual foods that your average Belgian might cook up – as well as finding out about some of the more unusual dishes and ingredients that might be served. Here's what Duncan had to say:
If you were going to cook us a typical breakfast, lunch and dinner from your country what would you cook?
 Breakfast
Belgian's usually like to charge up with a strong coffee, Gouda cheese, jam & honey with bread (cigarette; optional). Their traditional breakfast bread is Cramique; a rich, sweet bread with raisons.
Lunch & Dinner
Asparagus, Flemish style: white asparagus boiled or steamed served with chopped hardboiled eggs, parsley & clarified butter sauce.
Grey shrimp croquettes: thick, creamy cheese Croquettes, served as a starter or with a salad, fried parsley & frites as a delicious main course.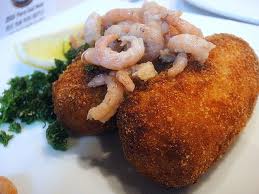 Eel (Parling/Anguilles):  Fresh or smoked eel, pan-fried in a cream or Provencial sauce and served with frites or bread.
Paling in t'groen: Eels in a very green sauce of chervil, Sorrel, Parsley, Pimpernel, watercress, basil, chives & thyme.
Tomate Crevette:Salad made from hollowed-out raw tomato stuffed with a seasoned mixture of fresh grey shrimp (crangon crangon) & mayonnaise.  This can be an appetizer or a starter. The ideal summer lunch when served with frites.
What are the most interesting, obscure, legendary, difficult or rare dishes from your country?
Strange
Well, there are a few things that the British people would find conceptually challenging such as
Horse fat frites made from fat taken from just under the mane of the horse. Yum, yum! When in Belgium it's also worth checking out their rabbit braised in the sharp tasting Gueuze beer; sure to give your taste buds a run for their money.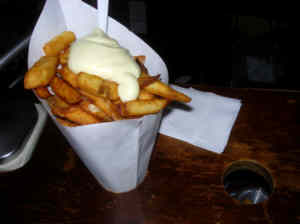 Are there any weird, exciting, interesting food rituals, customs, myths, etc that you've come across? For example, there's a good Peruvian one where you have to give the first and last sip of beer to Mother Earth.
Food customs and ceremonial occasions
Christmas is an occasion for large family meals (with even grandparents and cousins thrown in). There are many other occasions for long meals at public and private celebrations, such as weddings, funerals, and the days devoted to city and parish saints. Pastries are associated with religious and civil occasions. At Christmas, people eat sweet bread in the form of the child Jesus; at Easter, children are told that eggs are dropped in the gardens by flying church bells; and sugar beans are distributed to those who visit a young mother.
When toasting a beer with friends it is traditional to be stood up and you can say either "Op uw gezondheid" for the Flemish, Dutch speaking community or "à votre santé" to the French speaking community, meaning cheers and good health!
Huge thanks to Duncan and the Belgo gang for getting us a backstage pass to Belgian cuisne.